The students are at the center of attention. With increasing independence, they are transformed from participants who are provided with information according to the specifications of teachers into active participants who take responsibility for their learning and have the competence to act and shape it.
Subjects are not only taught in a fragmented way as independent islands of knowledge but rather are connected in relation to life. Essential skills, attitudes and knowledge of the 21st century are linked to relevant topics and problems from the students' lives. Learning is not a matter of memorizing facts and formulas but of holistic competence building.
The curriculum sets the course for lifelong learning by retaining the joy of learning and learning itself. It accounts for diverse forms of knowledge and learning, different intelligences, and incorporates technology and multimedia. 
The school does not encapsulate education, but acts as a nerve center connecting teachers, students, parents, and the community with the wealth of world knowledge. Students collaborate with experts, parents, companies, initiatives, and institutions from around the world. The 21st century curriculum is a global curriculum, and the 21st century classroom is a global classroom.
The long school year is broken into three units of study. Prior to each 10-week unit, holistic goals and milestones (OKRs) are established by students, parents, and teachers. The learning units, in turn, consist of agile sprints that connect individual and collective processes and conclude with formative feedback. Students navigate their learning journey in such a learning landscape with a digital logbook and personal mentoring and document their learning journey in a portfolio. The graduation system ensures students holistic growth and allows for increasing participation in and design of the school. 
As a recognized alternative school in the founding process, we are committed to meet the state-mandated curricula of NRW (Germany). These contents are combined in the following learning programs in such a way that they can be worked through in a way that is relevant to life, thus ensuring a deeper understanding of learning:
1. Project-based learning
10-week learning unit, interdisciplinary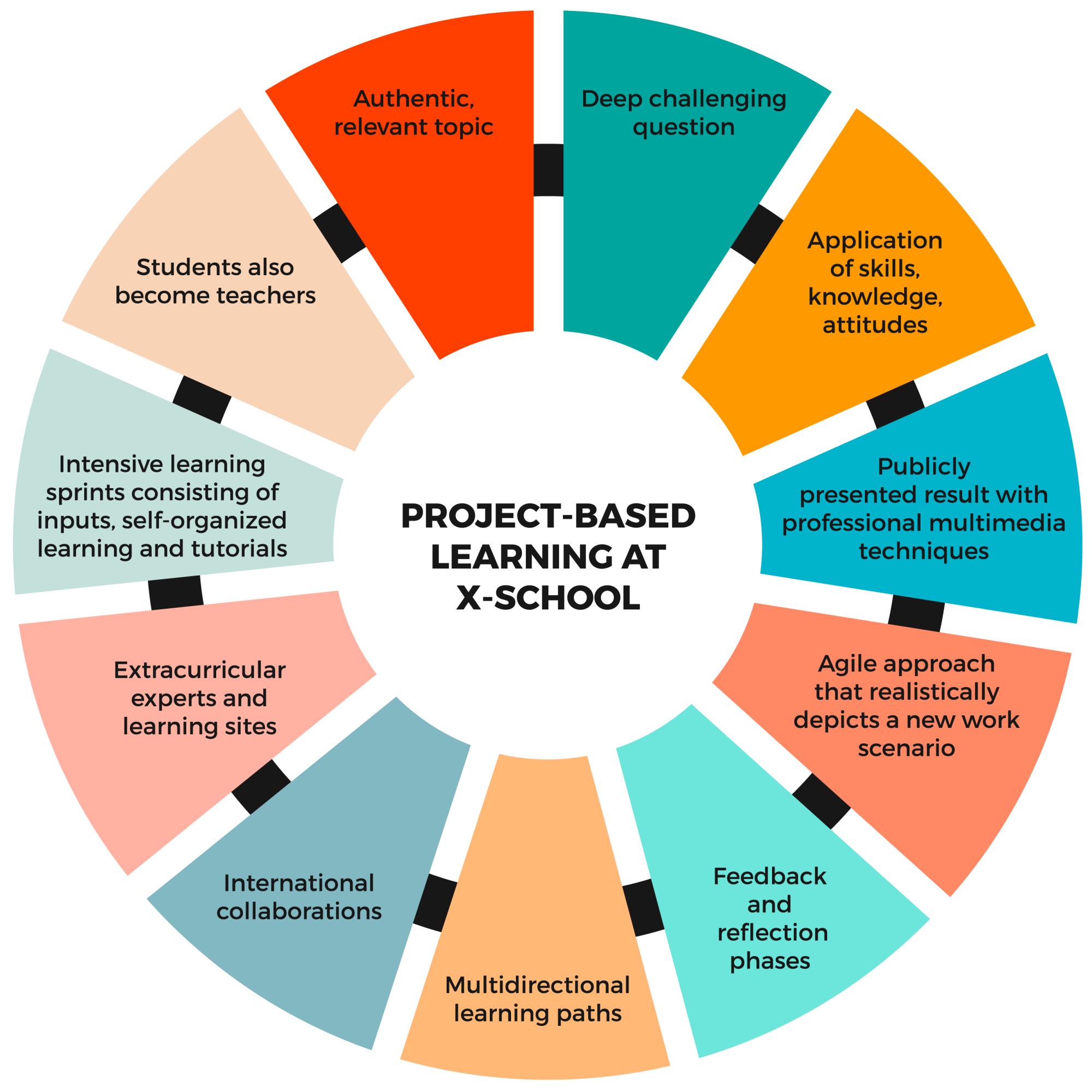 Procedure
Can we trust the news? What is the best way to handle money? How can we help the homeless in our neighborhood? Projects begin with a question, topic, or phenomenon of interest to the learning community. Initially, students move from a big abstract issue to specific guiding questions and concepts to solve the challenges that arise. They need to examine available resources, as well as obstacles, to determine work processes and methods, and develop, implement, and evaluate solutions as a team. In the process, the students reach their limits. In order to move forward, they must acquire technical knowledge and skills. Thus, subject-specific sprints emerge from authentic learning needs within a project. These are organized through inputs, self-organized learning, and tutorials.
Inputs
Inputs are short subject-related lectures by subject teachers and experts. The inputs are not meant to regurgitate knowledge to the students. Rather, the aim is to introduce subject-specific topics in an interesting way and to provide learning impulses (perspectives, methods, frameworks). Students work independently on their own or in groups to work in self-organized learning.
Self-organized learning (SoL)
For most of the 20th century, education was a process of transferring knowledge from a higher authority, the teacher, down to the student. This model is simply no longer sufficient to keep up with radical change in the 21st century. At the core of SoL is the shift from a teaching-based to a learning-based approach. The student must take initiative, acquire knowledge in a self-directed, self-organized, and self-reflective manner, evaluate it, and apply it to solve tasks. In this learning phase, students work critically alone or in groups with existing and retrievable world knowledge, form learning communities, research and try things out, make mistakes and learn from them. The teachers are in the immediate vicinity, accessible to all students at all times. However, the first contact person is always the classmate. This communication chain creates a sustainable, cooperative system in which students also teach each other and thus deepen the knowledge they have acquired. Longer SoL units are accompanied by tutorials.
Tutorials
Teachers, older students and experts regularly offer specific tutorials during the sprint (students can also ask for a specific tutorial in the digital system). These are used by students who want further help or consolidation at a certain point, or those who simply have a desire for the topic. In the tutorials, problems are presented and solutions are discussed in a small group. Subject teachers use students of other graduation levels as tutorial leaders, so that all learners become teachers.
Once the sprint with input, SoL and tutorial is completed, the group returns to the project, ready to apply the acquired knowledge to move forward in the project. Each project culminates in a deliverable. This is shared with the world beyond the school offline (performance, exhibition, presentation, etc.) and online (social networks, digital gathering, etc.). ('Learn, Create, Share' framework). To do this, the school's doors are opened to the public and the entire school community and city residents come together to experience the results.
The process of a project at X-School can be summarized as follows: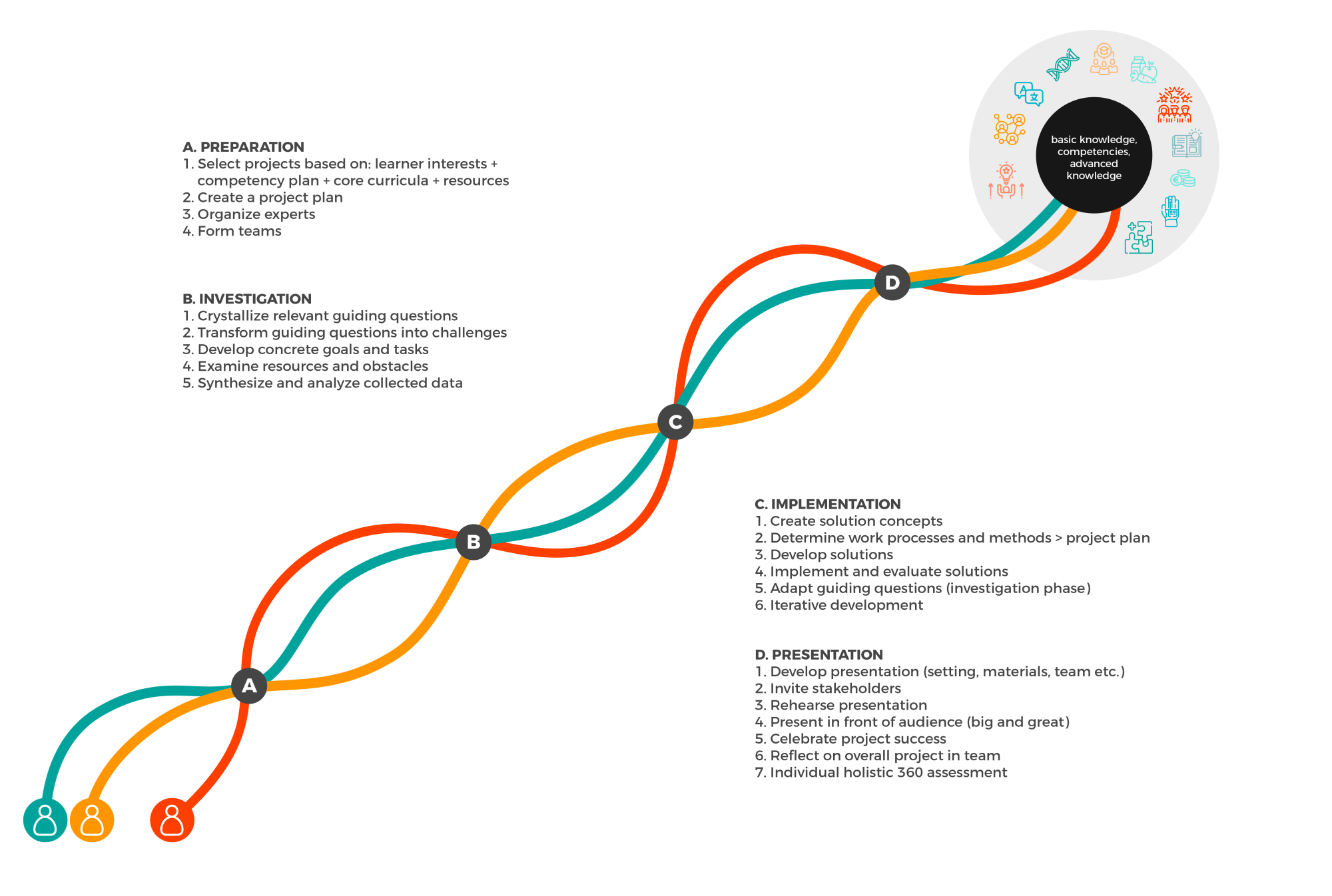 Benefit
Problem-based learning is evidence-based learning. International studies show that project-based learning increases students' academic achievement. Although teachers and the specifics of instruction varied widely across classes and countries, the superiority of problem-based inquiry persisted in every situation, demonstrating remarkable generalizability. The results of these studies contribute to the consensus that problem-based learning is highly effective academically, especially in terms of longer-term learning outcomes, and they are endorsed by the stakeholders most concerned-teachers, students, and parents. By the end of each project, students have actively learned a variety of subjects in the core curriculum and the competencies called for therein in a memorable way because they are meaningful in terms of relevant application.
Beyond the subject learning experience, the projects have other benefits:
Each project consciously and purposefully connects subject matter knowledge with X-School core competencies of the 21st century. Communication, collaboration, self-leadership, strategic thinking, entrepreneurship, and leadership skills are in the nature of this work anyway, as students must manage their projects, negotiate, assign tasks, and find ways to collaborate with diverse groups. They develop their vision, make plans, initiate ventures, learn to relate to each other in functional ways, deal with defeat, and learn from mistakes. Students become aware of their ability to find out what they need to know and use this new information to find solutions to situations for which there is no obvious answer. They gain more confidence and soon engage in the process outside of the classroom, and ultimately transform lifelong problem solvers. In the process, they combine analog and digital tools to create products of social value. They experience self-efficacy and feel they can help shape the world which bends the sense of powerlessness that can lead many young people into social apathy, nihilism, or fanaticism.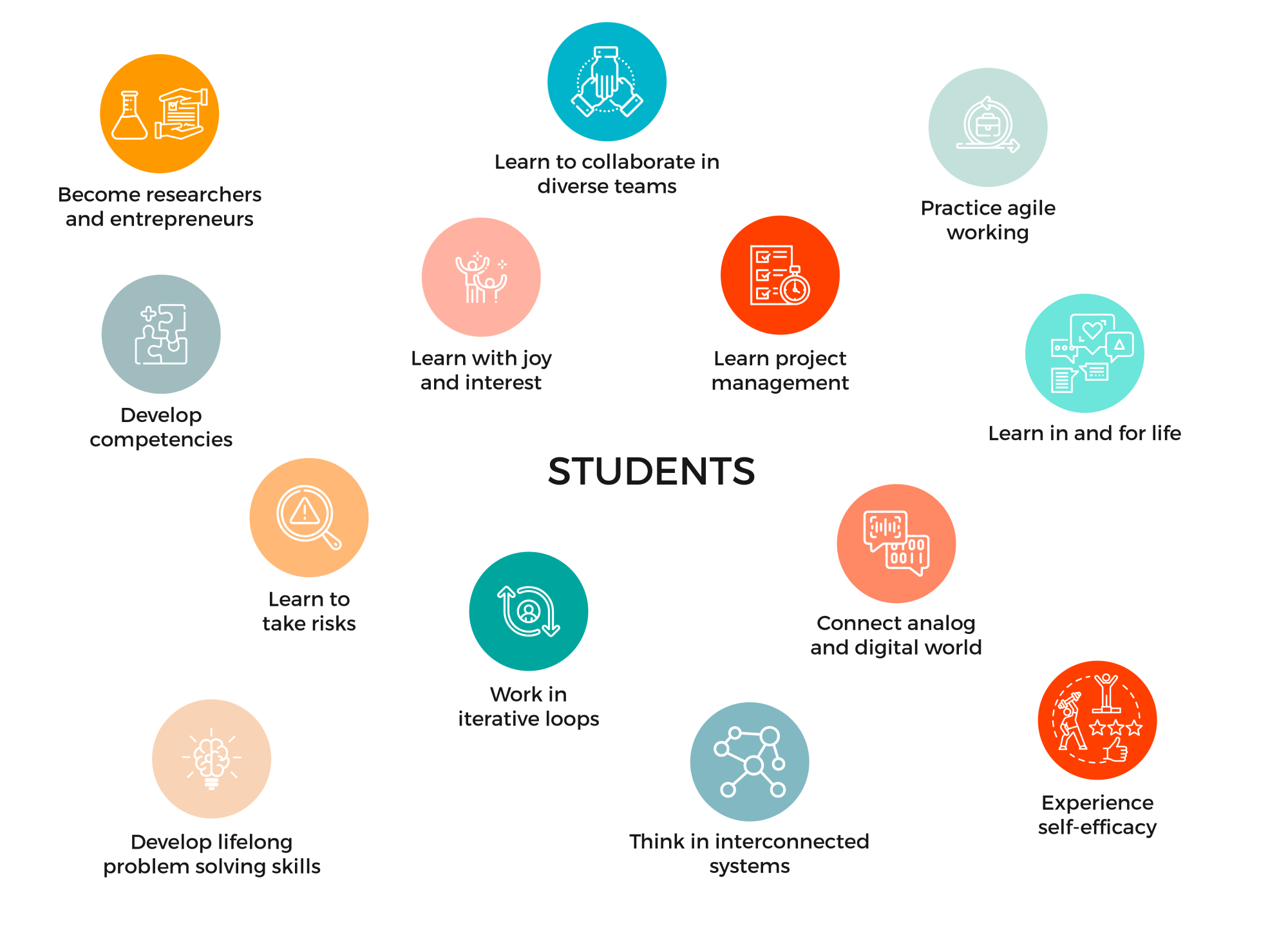 2. Workshops
Flexible length, subject or topic-specific
Whether Coding, Math, or English, students attend workshops to gain subject-specific skills. For example, a student may choose the Coding 2 or Math 4 workshop in order to earn appropriate points. The workshops thus also serve as a way for the X-School to cover specific subject content of certain subjects that are not covered enough in the projects. Personalized learning and learning in groups are used to the maximum in order to work actively and competence oriented. The use of digital learning materials in blended learning and self-organized learning allows students to organize workshops according to their own needs and to learn at their own pace. For example, a student may be several years ahead in Math than a student of the same age, while she is ahead of him in Coding. However, both must have successfully completed the basic level in all subjects. Only then they can work their way up in a self-determined manner.
3. Actions
Flexible length, skill-based
Helping an animal, performing stand-up comedy on an open stage, living as a homeless person for 24 hours—none of this has anything to do with school? With us it does! X-School activities are competency-based, subject-independent challenges in and for life.
Process
Each school year, there are three unique actions for the students, one action per learning unit. The actions are based on the competencies of the corresponding learning unit and can be created and adapted by the learning community. Students can also propose actions to be included in the catalog if they meet the school's criteria.
Benefits
Within the framework of the actions, students should have experiences that are formative. Future competencies are acquired in this format through unique life experiences outside the comfort zone. Experiences such as these, which are unusual and would otherwise be avoided, are taken up here as a challenge with the group.
Examples
4. Rituals
Habits of success
Small practices can do big things when they become habits. In the case of rituals, we aim to develop habits through regular, short sessions that are of holistic benefit to students ('Habits of success & well-being').
Examples